Acupuncture with Pouyan Salimian
Lic.Ac. BSc (Hons) BAA, AAC, ITEC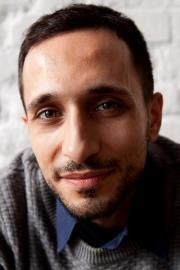 In 2004 I completed an MA in Oriental studies (Japanese) at the University of Venice, followed by a full year working and studying in Osaka (Japan). I feel grateful that my longstanding fascination for far Eastern cultures took me to explore it from a different angle - its healing arts. My journey into healing started very early in life. Healing has always been present in my family and I grew up with a fascination for the body-mind relationship and ways we can help ourselves achieve good health and realise our potential as human beings.  I started with meditation, followed by a big passion for yoga which took me to complete a yoga teacher training nearly 10 years ago, followed by a four-month long stay in northern Thailand where I studied the Thai healing arts.
Today I am a fully qualified acupuncturist (Classical Chinese Acupuncture) and a full member of the Association of Acupuncture clinicians (AAC) and British Acupuncture Association (BAA) as well as a member of the Fertility Support Network.
I studied Acupuncture at ICOM (International College of Oriental Medicine) - the oldest Acupuncture college in the UK - where I completed a BSc(Hons) in Integrated Western Medicine and Classical Chinese Acupuncture. I continue to attend workshops for ongoing professional development, including postgraduate courses in acupuncture for infertility/IVF support, gynaecological conditions and musculoskeletal issues as well as Japanese styles of acupuncture.
I practice traditional acupuncture, which includes also cupping therapy, gua sha, moxibustion and massage when appropriate - as well as cosmetic (facial rejuvenation) acupuncture. In my practice I take an integrated holistic approach. During consultation I take the whole person into consideration to gain an overall picture, which is then addressed in the treatment.
Integral to my competence as a therapist is my continual practice and self development through Yoga and meditation practice.
As well as an  acupuncturist I am also an holistic massage therapist, combining Tuina (Chinese medical massage), Thai massage techniques with holistic and deep tissue massage. I also find it beneficial to include massage in my acupuncture treatments.
Quick Facts about Pouyan Salimian
Masters in Oriental Studies at the University of Venice
1yr Study/Work in Osaka
Yoga Teacher Training
Thai Healing Arts study in Thailand
Qualified Acupuncturist - Classical Chinese Acupuncture
Member of British Acupuncture Council
BSc(Hons) in Integrated Western Medicine and Classical Chinese Acupuncture
Postgraduate courses in acupuncture for Infertility & IVF Support
Traditional acupuncture includes cupping, gua sha and moxibustion
Holistic and Deep Tissue Massage Therapist
Thai Massage Therapist
Tuina Massage Therapist